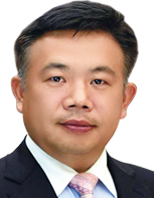 Release Conference of Blue Book of Legal Health of China's Insurance Industry 2018 (Index & Special Reports)

At present, China's financial open-up has entered a substantial promotion stage, and as an important link thereof, opening-up of insurance industry plays a unique role in financial opening-up. Under the new opening-up pattern of finance and insurance industry, and in the new situation of pan-asset management and integrated development, it has become an urgent topic to discuss and study how China's insurance asset management institutions should grasp development opportunities, meet challenges head on, how to promote standardized transformation and sound development of the insurance and insurance asset management industries, and how to achieve innovation and high-quality development in compliance.

3rd Forum on China's Economic Development and Legal Regulation and Release Conference of GLGA Blue Book of China's Non-performing Assets 2018

In recent years, in the face of a complex international environment and arduous tasks of domestic reform, development and stability, China's economy has maintained a generally steady development trend. However, the Sino-US trade issue is still unresolved and, given the aftershocks of domestic market's breaking the rigid payment, can China's economy maintain low volatility and high-quality, stable development in the future? And what opportunities and challenges will China's macroeconomic development face?
Finance is a country's important core competitiveness, financial security is an important part of national security, and the financial system is an important fundamental system in social development. Following the law of financial development, The Mission of China's Finance in the New Era, in the great historical transformation period when China is marching towards the new era, focuses on "finance serving the real economy, preventing financial risk, and deepening financial reform development priorities", discusses how to innovate and improve financial regulation, improve the modern financial system, promote the establishment of a financial regulation framework, transform the financial development model, and improve the foundation and legal rules of the financial legal system; on grasping finance work's four important principles -- "returning to the origin, optimizing structure, strengthening supervision, and being market-oriented", the book puts forward such suggestions as improving the financial market, optimizing financial institutions and financial system, and improving financial risk prevention & control capability.